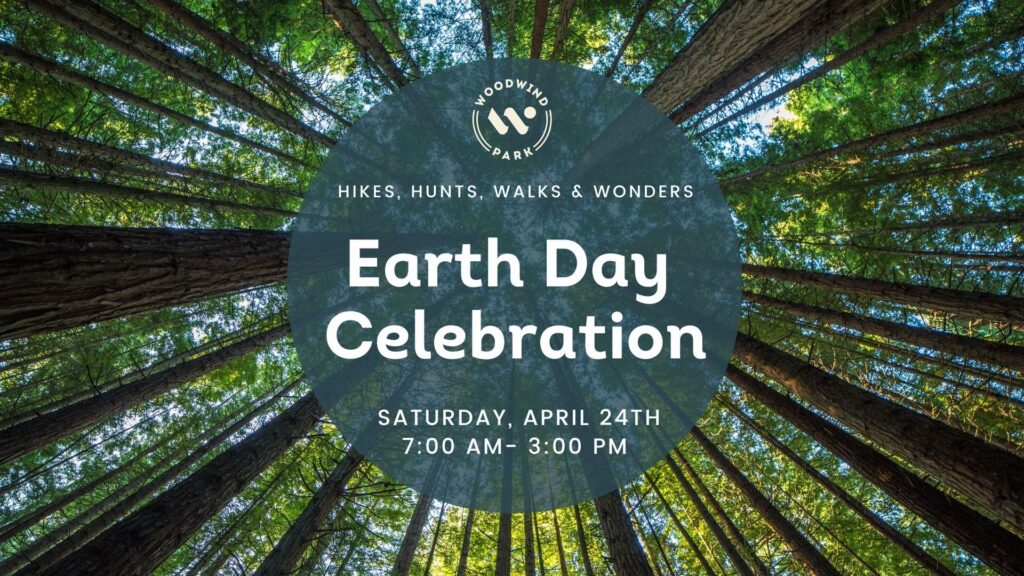 Celebrate the north woods as part of your Earth Day Celebration on Saturday, April 24th from 7:00 am-3:00 pm. Join us at WoodWind Park to hike, complete a scavenger hunt, walk, and wonder.
Guests will begin at the check-in booth to make sure outdoor activity waivers are on file for all participants. NO DOGS ALLOWED for the Earth Day Celebration. If you completed an activity waiver in the fall, you are still in our system, if you only filled one out for the winter activities, you will need the other waiver completed. Masks are required in all indoor spaces at The Park.
Scavenger hunts can be picked up at check-in. All completed scavenger hunts will be entered into a drawing for prizes. Some prizes sponsored by Dunn Energy Cooperative.
Informational booths will be positioned around the bonfire for a one-way walk-through. (or inside the chalet if it is raining) Groups involved include: Friends of the Red Cedar Trail/ Hoffman Hills, Landmark Conservancy, Lower Chippewa Invasives Partnership (LCIP), Tropical Wings, Blue Ox Farm, and more. There will also be a "Technically Natural" slideshow scrolling.
Food available for purchase from Consuming Fire wood fire pizza.
Guided tours will run all day with differing emphasis for observation and learning. Groups will be limited to ten people and masks are encouraged when distancing is impossible. You can sign up for a tour or two at this link.
Nina Koch, an expert bird conservationist, will be conducting three separate Birding Tours at 7 am, 9 am, and 11 am. (Early birds are actually a thing, so the earlier you sign up, the higher the likelihood of bird amazement).
Patty Mueller, also a conservationist, is a retired science teacher out of Hudson and President of Tropical Birds. She will take groups on 45-minute Signs of Spring/Sense of Wonder walks at 10 am and 1:30 pm.
Man of the Woods will facilitate Voyageur Skills activities and demonstrations in the front of the chalet from 9 am- 3 pm.
Yoga Instructor and nature guru, Sara Norman, will walk with a group at 12:30 pm for a Mindfulness in Nature Experience.
Mike Kolstad will lead a Nature Photography hike from 1:30-2:30 pm. 
Tour sign up will be available the day of the event, but if you want to reserve your spot, make sure to sign up today!
Cost to attend is FREE, but we gladly accept Free Will Donations toward our Play it Forward campaign to build The Park.
Please email questions or interest to info@woodwindpark.com, Subject: Earth Day Celebration.